UEFA has announced the list of players who were nominated to be the best player in Europe 2011/2012. Real Madrid finished the club contributed the most players names, the seven men.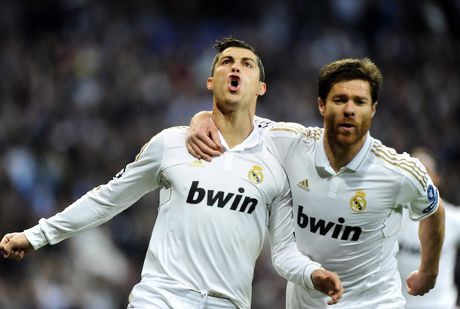 The award was given last year after the Ballon d'Or award was merged with the FIFA world player. In the first edition, Lionel Messi, who got it after beating Cristiano Ronaldo and Xavi Hernandez.
For this year, there are 32 names of a candidate winning the award and the Madrid club so that most players nominated. They are Xabi Alonso, Iker Casillas, Pepe, Fabio Coentrao, Ronaldo, Mesut Ozil, and Sergio Ramos.
Manchester City is in second place with six players contributing. Meanwhile, from Barcelona, ​​there are only four representatives, namely Messi, Andres Iniesta, Xavi and Cesc Fabregas.
Determination of winners will be based on voting among representatives of 53 journalists from UEFA member countries. On 14 August, UEFA will announce the achievement of three players with the most votes. Three players will now be presented in Monaco on August 30 to choose the best.
Here's a list of 32 players candidate best player in Europe 2011/2012:
Sergio Aguero (Argentina) - Manchester City
Xabi Alonso (Spain) - Real Madrid
Mario Balotelli (Italy) - Manchester City
Jakub Blaszczykowski (Poland) - Borussia Dortmund
Gianluigi Buffon (Italy) - Juventus
Iker Casillas (Spain) - Real Madrid
Petr Cech (Czech Republic) - Chelsea
Fabio Coentrao (Portugal) - Real Madrid
Leslie Davies (Wales) - Bangor City FC
Didier Drogba (Ivory Coast) - Chelsea (now Shanghai Shenhua)
Cesc Fabregas (Spain) - Barcelona
Falcao (Colombia) - Atletico Madrid
Joe Hart (UK) - Manchester City
Zlatan Ibrahimovic (Sweden) - AC Milan
Andres Iniesta (Spain) - Barcelona
Shinji Kagawa (Japan) - Borussia Dortmund (now Manchester United)
Vincent Kompany (Belgium) - Manchester City
Frank Lampard (England) - Chelsea
Lionel Messi (Argentina) - Barcelona
Luka Modric (Croatia) - Tottenham Hotspur
Mesut Ozil (Germany) - Real Madrid
Pepe (Portugal) - Real Madrid
Andrea Pirlo (Italy) - Juventus
Sergio Ramos (Spain) - Real Madrid
Raul Gonzalez (Spain) - Schalke 04 (now Al-Sadd)
Cristiano Ronaldo (Portugal) - Real Madrid
Wayne Rooney (England) - Manchester United FC
David Silva (Spain) - Manchester City
Fernando Torres (Spain) - Chelsea
Yaya Toure (Ivory Coast) - Manchester City
Robin van Persie (Netherlands) - Arsenal
Xavi Hernandez (Spain) - Barcelona