Apart from giving the green light for the use of goalline technology, IFAB (International Football Association Board), has also approved the permissibility of the use of headscarves for Muslim footballer.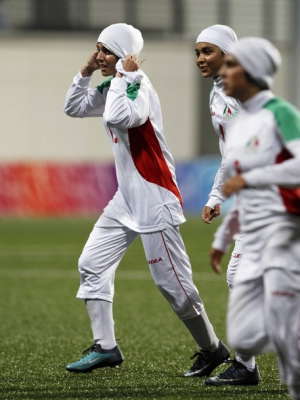 IFAB decision was taken at a meeting held at FIFA headquarters in Zurich, Switzerland, Thursday (05/06/2012) yesterday. So reported the AFP.
Since 2002, FIFA imposed a ban hijab as a form of anticipation of the often sensitive issues involving religion. FIFA to assess, veil and all kinds of specific religious symbols to make football as a means of delivering messages from a particular religion.
In a women's soccer match at the 2012 London Olympics and the Jordan against Iran, FIFA Iran to stop the match because the players took to the field wearing the hijab. Jordan and Iran won 3-0 then disqualified.
Last March, FIFA has lifted the ban. Is vice president of FIFA, Prince Ali of Jordan, who played directly on the lifting of the ban. He is one of the FIFA executive committee member, amounting to 24 people.