Marked by her comeback Juan Roman Riquelme, Boca Juniors secured their League titles won the Apertura Argentina to the competition after winning the match that to-17, Monday (5/12/2011) morning hrs.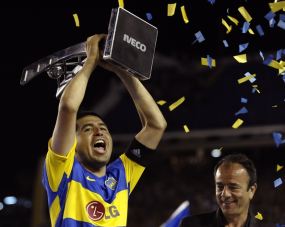 Banfield at the stadium to entertain their greatness, Bombonera, Boca Julio Cesar Falcioni trained enough to win 3-0. Dario Cvtanich attacker to gain two goals and midfielder Dario Rivero scored one goal for the hosts victory.
The result leaves Boca unbeaten in 17 matches in the competition Apertura this season, and that's enough to make them champions. The second ranked team, Racing Club, behind 11 points behind them.
This is a league title since the 24 Boca Argentina became a professional league in 1931. If calculated from the competition since the Apertura and Clausura are divided into in 1991, this is the eighth title, or the first since 2008.
The captain Riquelme, who missed a month due to injury, returned to the field and off as a substitute. He was joined by supporters, celebrating their victory in the middle of the field.
"I promised (fans) a title, and we have delivered it. I kept my promise," Riquelme said in an interview on the field, as quoted by Reuters.