A goalkeeper helped the attack and then scored is not something new. It's pretty much done. But a different story if the goalkeeper scored salto kick.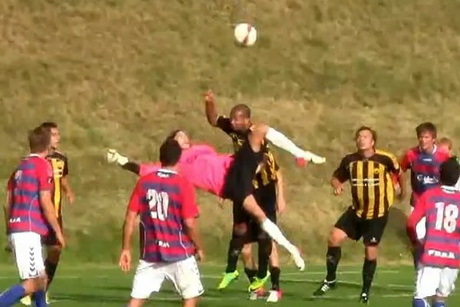 In addition to a free kick or a penalty, a goalkeeper usually have a chance to score when he came forward into the opponent's defense area. It generally occurs in the final minutes and the team that defended the goalkeeper takes a goal midst.
Jakob Kohler do it when his team, Frem, facing SKJOLD Birkerod in Division Two League match Denmark, Saturday (09/08/2012) then. Because Frem was behind 0-1 until injury time, he had come up to the penalty box in the hope of scoring.
Starting corner kick situation, a player Frem stomach then send feedback to the goal mouth. Kohler, who is in a position to goal, jumped up and latched with salto kick.
Ball into goalkeeper inevitably Birkerod. The status was changed to 1-1 and Frem survived the defeat. As reported by the Guardian.