Many questions arose concerning the sudden sadness is felt Cristiano Ronaldo. From a variety of speculation, the new contract is believed to be the source of problems in the world's most expensive player.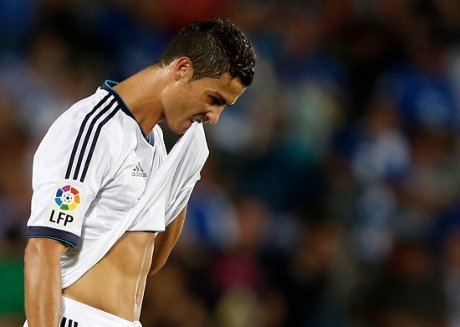 Having carried off the tag of 80 million pounds in the summer of 2009, Ronaldo is still be one of the players with the highest salaries in the world. Real Madrid paid 10 million pounds (about USD 151.3 million) for each season, where there is now a deal that will last until 2015.
These figures may be not enough to satisfy Ronaldo. The claim that he is now sad, even after scoring two goals against Granada, considered to be a veiled statement Ronaldo to get a new contract with a salary greater than the club.
Editor at Spain's leading sports daily, AS, Ronaldo called if you want just more money in the form of a new contract. "He (Ronaldo) want more money," wrote Alfredo Relano in the U.S..
Meanwhile, The Sun claims that CR7 has requested his salary was raised to £ 12 million a season, after taxes. With that number, it means that Madrid have set up a fund of 14.5 million pounds for the salaries of the former world's best player for a year.
In an interview with Marca three months ago, Ronaldo claimed that he would like to finish career with Real Madrid. But he later called if the decision is still dependent on other parties, which are believed to policy makers about the awarding of new contracts.
"I would like to finish career here, but now there's things that have to depend on others," Ronaldo said at the time.
Players declare 'sadness', 'do not feel rewarded' or 'not at home' is not the first time that happened. In recent years similar incidents recurring, and in some cases completed after the new contract signed by both parties.
One is that happens to Wayne Rooney and Manchester United. Two years ago, Rooney was surprisingly said he wanted to leave the Red Devils. But four days after he issued a statement to a new contract with a salary increase. So reported by Marca.