NBA star Lebron James claims to have a surprise planned for the crew of Liverpool. He wants to invite Luis Suarez cs for a vacation to Las Vegas this summer.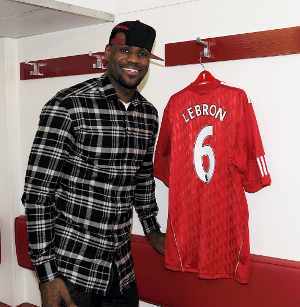 To prove the truth of his promise, the plan in the near future Lebron will fly to Anfield with Kanye and Jay-Z to talk about it.
However, the "big party" promised Lebron would be even better if this season Liverpool won the title.
"I think all athletes should be on vacation for a while, and if the players Liverpool win something this season, I will give them the best weekend getaway in (Las) Vegas," said 27-year basketball player at the Daily Mail.
"Me and Kanye (West) will take them to one of the places in Vegas that 99 percent of people are not aware of its existence. Was a Vegas in the 'Vegas'.
"And believe me, no one who makes Vegas becomes more interesting as Lebron and Kanye did.
"With Kanye and Jay Z, I'll soon get there (Liverpool) to watch the game in order to talk about this," said America's top athletes who have a minority stake in the Liverpool FC.