Luka Modric has pushed a new chapter in his career soccer after joining Real Madrid. Not 'bean forget the skin', Modric was grateful to Tottenham Hotspur before he defended.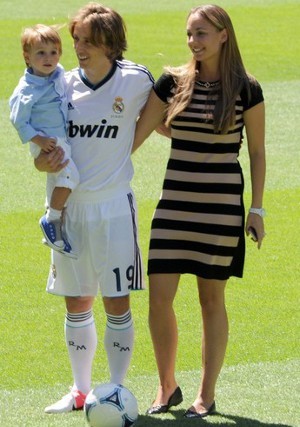 26-year-old Croatian player began a career in football with Dinamo Zagreb, which he defended since the age of 16 years. Had lent, Modric then look impressive with the Dinamo won three league titles and two Croatian Cup title, as he won the title of Player of the league in 2007.
Slick performance was able to lure Tottenham and then sign him to England in the summer of 2008. Purchased for approximately 16.5 million pounds, Modric became one of the first players recruited by the then Tottenham manager, Juande Ramos.
Together Tottenham, Modric increasingly bright light. He managed to help the club occupies the top four of the 2009-10 season and 2011-12, and reached the quarterfinals of the Champions League 2010-11 - when knocked out of Madrid.
Brilliant performances this time able to steal the attention of a number of big European clubs. Chelsea, Madrid, Manchester City and Manchester United are some clubs that had attributed to him.
Last summer, Modric was widely tipped to move to Chelsea. The player's mind seemed branched off, although he ultimately survive. Moreover Tottenham also looks still very reluctant to let go.
In the summer interest in Modric appeared again, though Madrid who looked very determined to get it. Tottenham once again appeared to be not willing to part with his playmaker, though it finally succumbed to the transfer value is reportedly around 30 million pounds.
Thus ended one long episode involving Modric transfer. "The transfer process has been running for too long but I am honored and proud to be there at the biggest and best clubs in the world," said Modric was quoted as saying Football Espana.
With such transfer negotiations, players often feel uncomfortable and anxious, even ended up angry at his old club. Not with Modric Tottenham just thank the togetherness fun.
"I want to thank everyone at Tottenham. I spent four (years) a wonderful stay there. I'm thankful but now I open a new page in my life," said Modric.