After 15 years always held at Stade Louis II, Monaco, starting next year, the European Super Cup will change venue. In the last year, Chelsea and Atletico Madrid will duel each other. Who is the winner?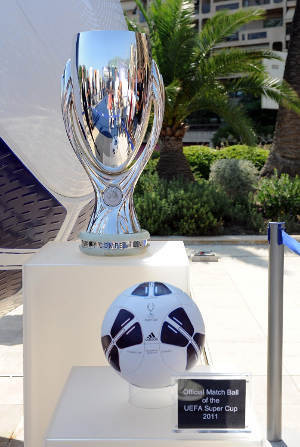 Beginning in 1998 UEFA changed the format of the competition in which since its inception in 1972, the European Super Cup always played over two legs and bring the Champions League / Champions Cup Winners Cup.
However, since the Cup Winners' Cup winners erased the one who has the right to challenge UEFA Champions League winners. Since it was 15 times the European Super Cup and Monaco have always held the honor of holding the game which is also accompanied by a selection of the best players and coaches UEFA version.
Finally after a long time did not move, UEFA decided to start next year UEFA Super Cup will be rotated in three different places. For the next three years UEFA has set its place the Eden Stadium, Prague (2013), Stadium Cardiff, Wales (2014) and Mikheil Meskhi, Georgia (2013).
So the match between Atletico Madrid Chelsea counter at the Stade Louis II on Saturday (1/9) pm dawn will feel special because it arguably would be the last chance for the stadium with a capacity of 18,523 spectators.
Chelsea will want to win to maintain dignity vice Champions League and won the European Super Cup title after first winning both in 1998.
Meanwhile, Atletico want to re-create a surprise in this event as they did two years ago, when topple Inter Milan 2-0. Same as now, the time it was Los Colchoneros Europa League champions.
Now worth the wait if the status as the favorite in this fight will be the motivation or even backfire for the Blues. Trophy weighing 12.2 kg and 58 cm high it will wait appointed by the captain of each.
For additional information, AC Milan still the majority owner of the European Super Cup titles with five trophies followed by Barcelona (4) and Liverpool (3). The Rossoneri had the honor of saving the original trophy in their closet as a sign already five times or three times consecutive champion.