Who is the best player in the Premier League earlier this season, may be appointed to the Chelsea squad. New players from the Belgian, Eden Hazard, has given the first impression is very charming.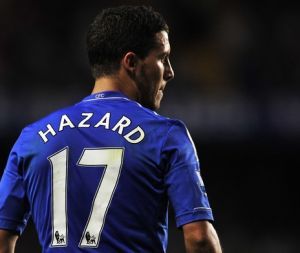 In his first official match, in the Community Shield against Manchester City, Eden does not look special. He only played 71 minutes, and Chelsea lost 2-3.
But after that he appeared "crazy". Three times melakoni his Premier League match, Hazard was always riveting. Torehannya was nine shots and one goal. The Blues are always victorious, posting eight goals and six assists them from Hazard: Direct four assists, two asisst to lead his team to a penalty.
The brilliance of a man 21 years was made ​​didapuk as man of the match in the third game: against Wigan, Reading and Newcastle United. A record company he created the first player to be Man of the Match in the first three games of the Premiership.
"I have to mark the Eden UK time leawan Belgian duel, and I see how dangerous he is," said left-back Ashley Cole on the club's co.
"After the game I said to my friends, players will be successful in the Premier League, and so far it is. Season is still long, but the effort and commitment, and what he did for the team, as far as this is brilliant. Deserve him praise for the start of his extraordinary. Hopefully he can keep this up throughout the season. "
Manager Roberto di Matteo also spit praise. And he said, Hazard can surf thanks to the atmosphere in the team is very good, so the new players, who were recruited from Lille, can quickly adapt to the new environment.
"Hazard is not just tuned with Fernando Torres. He is also very understanding with Juan Mata and other central players, and the entire team. Thank you to the members of the team so that he can quickly get in and play very comfortable with each other," said Di Matteo.