Sheffield Football Club
Nicknames: the Club, the Ancients
Stand | October 24, 1857;
Stadium | Coach and HorsesGround, Dronfield
(Capacity: 2,000)
League | NPL Division One South (level 7 league)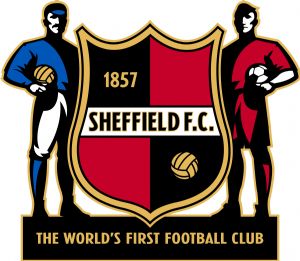 Originally, football was played throughout the UK did not have clear regulations. Everyone can apply different rules and can be followed up to 500 players in one game, and often ends with clamor.
On October 24, 1857 two cricket players Creswick and William Prest Nathanaiel together form a football club Sheffield FC. They develop rules to play, including a free kick and goal. But they never claimed to be the inventor of football. They are only the first organization specifically formed to play football.
For three years, Sheffield played only among themselves and had no enemies, including the fight for married men against single men. Until 1860 Hallam cricket club formed a football club. Derby between them has continued until now.
In 1862, there were 15 other club that was founded in Sheffield, which was then under union organizing in Sheffield Club.Mereka all of this is to spearhead the formation of the Football Association (FA) in 1863.
Although as a pioneer of the formation of many other clubs in England, Sheffield FC was still a amateur club or semiprofesional until now. In 1867, Sheffield decided to come out of Sheffield for the local league play outside the region to seek a greater challenge.
In 1863, they became members of the FA and try their luck in the competition rolled out in July 1885 professionals. But Sheffield was unable to compete because they always lose by many goals when faced with Aston Villa, Nottingham Forest and Notts County.
FA tried to accommodate the many amateur or semipro clubs to form the Amateur Cup national championship. In Sheffield this event in 1904 won the first trophy as well as their history.
In 1949, Sheffield joined the Yorkshire League before engaging with Midland League to form the North Eastern League in 1982. During 33 years of playing in the Premier Yorkshire, Sheffield won only one division title in 1975-76 season.
After forming a new league in the English division, Sheffield won twice, 1988-89 and 1990-91. After that Sheffield maintains status semipro division from 1991 to 2007 denganprestasi ranked second highest.
This league was then restructured into the National League System and Sheffield played in division one south of Northern Premier League 2007-08 season.
At the birthday celebration-150 in 2007 to deal with Sheffield FC Inter Milan game ended with the score 5-2 to Inter, before 18 741 fans at Bramall Lane stadium. Pele is also present as guest of honor.
Achievement
*. 1903-04 FA Amateur Cup winners
*. Runners-up FA Vase Cup1976-77
*. Yorkshire League Division II champions 1976-77
*. Yorkshire League Cup winners 1977-78
*. Whitbread Trophy winners 1987-88
*. Division I champion Northern Counties East League 1988-89, 1990-91
*. Northern Counties East League Champion League Cup 2000-01, 2004-05
*. Sheffield and Hallamshire Senior Champion Cup 1993-94, 2004-05, 2005-06, 2007-08, 2009-10