Palestinian national team players, Mahmud Sarsak, can finally breathe free air after about three years detained by Israel. Freedom is celebrated with joy by the Palestinian people.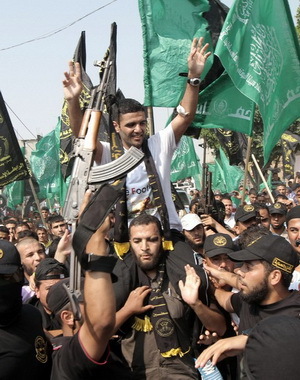 Reported by AFP, Sarsak was arrested in July 2009 on his way from Gaza to the West Bank to play. The Israelis consider him a terrorist group involved in planning attacks and bombings against Israel.
However, Israel was never able to prove these allegations. Finally, detained without charge Sarsak clear.
On 23 March, Sarsak begin hunger strike in prison for fighting for freedom. During this action, he's just taking vitamins, sugar, and milk. As a result, he lost almost half her weight. Doctors routinely check the condition began to worry.
Action of 25 players this year gained international attention, including FIFA and organization Amnesty International. International Association of Professional Players (FIFPro) and the former Manchester United star Eric Cantona has also urged Israel to immediately release Sarsak.
Sarsak struggle was not in vain. In mid-June, he got a guarantee would be released and the hunger strike was her end.
Sarsak finally truly free on Tuesday (7/10/2012) yesterday. He was greeted by hundreds of Palestinians are complaining-elukannya carrying Palestinian flags and pictures. Much to celebrate his freedom by firing rifles into the air.
Sarsak is still in weak condition immediately put into an ambulance to get treatment. Although time was taken to hospital, Sarsak finally able to go home in Rafah, southern Gaza Strip.
"I can not describe my joy. However, at the same time I also can not forget the cries of the prisoners still in Israeli jails," said Sarsak.
"This is a victory for the prisoners and I thank you for all Palestinians, Arab, international agencies, and the people who supported me," he said.