Spain is consolidating its dominance in world football. After his senior team to be champions of the European Cup, U-19 Team Matador also ordain themselves as the best in the Blue Continent.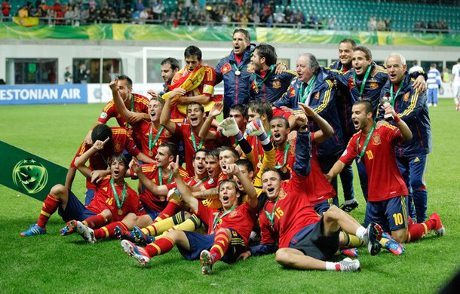 Spanish champion after beating Greece in the final. In a match in Lillekula Stadium, Tallinn, Estonia, Sunday (7/15/2012), Julen Lopetegui trained team is winning 1-0.
The only goal scored by La Rojita Jese Rodriguez in the 80th minute. After receiving feedback from Gerard Deulofeu mature, Jese coolly goalkeeper.
In the UEFA European Under-19, six times Spanish champion since the tournament was held yearly from 2002. Last year, they also became champions after beating the Czech Republic at the top of the party.
Spain more complete happiness because Jese also finished top scorer in the finals. Real Madrid's attacker scored five goals in four appearances in the tournament and beat Giorgos Katidis (three goals).