Although Real Madrid captain, Iker Casillas said to have a poor relationship with Jose Mourinho. Why because Casillas good friends with Barcelona midfielder Xavi Hernandez.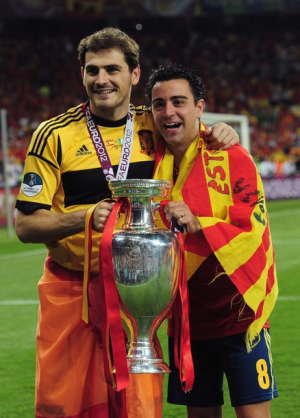 This was stated by Joaquin Hernandez, who was none other than Xavi's father. News-rift men are true coach Mourinho has denied last March. At that time, Mourinho said emphatically that "no problems" between him and Casillas, but Joaquin doubt.
Joaquin, who is also a former football player in the Spanish first division club, Sabadel, expressly says that there are many problems between Casillas with Mourinho. He said the Portuguese coach did not like best friends with his son Casillas.
"Iker has a lot of problems with Mourinho. Reason, Iker did not want to finish her closest friendship with Xavi. Problem was spreading and everyone knew it," said Joaquin at Soccernet.
Following the arrival of Mourinho at the Santiago Bernabeu, the tension between Madrid and Barcelona players are more tapered. These conditions had an effect on the Spanish national concern, although then be completed as part Casillas, Xavi, and Vicente Del Bosque.
"Social among the players (in Spanish) was madly in serious trouble. There is a distance between (Alvaro) Arbeloa, Xabi Alonso and Sergio Ramos. Behavior some of the players (also) there are inappropriate. Fortunately, Iker and Xavi to intervene."
"If it were not for Casillas, Xavi and Del Bosque, Spain will not be able to achieve what they get now. El Classico in the Spanish issue was too complicated," he finished.