In the beginning was a hoax, and the praises. European Cup in 2012, Mario Balotelli is a story in itself. He successfully silenced anyone who considers himself nothing more than cheesy celebrity by scoring three goals in four annual tournaments.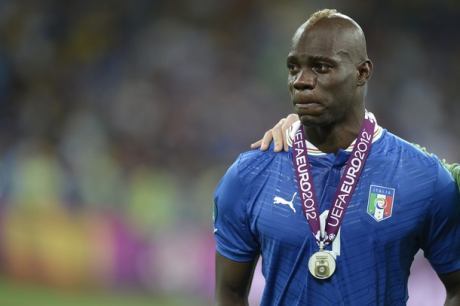 Asilnya name is Mario Barwuah. There was no Italian blood in body. Her parents, Thomas and Rose Barwuah, immigrants from Ghana. Balo born in the city of Palermo, August 12, 1990.
Living in the land of the mediocre economic circumstances make balo parents do not know about when he was sick. Until then a decision that would change his life, published: balo got a foster parent named Francesco and Silvia Balotelli. From his foster parents had a name that's Mario Balotelli Barwuah.
Then the story unfolds.
Living in Italy into two sides of the coin for balo. We all know, black balo. While foster parents are Jewish. History records, a total of approximately 8,000 Jews died in the era of Benito Amilcare Holocoaust Italian Andrea Mussolini, fascist dictator Adolf Hitler's ally. And do not ask how many blacks are missing: even the first colonies of Italy under Mussolini are the countries in East Africa.
The fact that no one makes balo two racist insults received from others. Before Euro 2012 started, where the threat of racism is much higher than in Italy in the era now, balo vowed to "kill" anyone who acted against him racist.
When the entourage arrived at the Italian national team of Poland, they make a visit to the Nazi extermination camps at Auschwitz. There balo unable to resist bitterly. Not because he or his family had experienced dark sedarahnya with the Nazis. But because he remembered a box.
In the box containing the letters containing about the story that her foster parents was Jewish. Out of the box's background balo know her foster parents. He found the letter box under his bed. Since then, balo begin intimate with a narrated history of the Jewish dark foster parents.
Balo actually never told this to anyone in order to keep unwanted things. But, according to a report from Radio Netherlands Worldwide, balo (finally) to tell it because not able to resist tears while in Nazi extermination camps at Auschwitz.
The news then spread. Some Neo-Nazi groups in Italy or outside Italy considers balo - other than black -, also of Jewish descent. One site-extremist racist groups in Italy, Stormfront, even wrote: "Balotelli (skinned) black and (descent) Jews. He should play for Israel, not Italian".
One of the Italian mass media was not long ago, Gazzetta dello Sport, also makes a racist attitude. They draw cartoons Balotelli who was hitting the ball hard from the top of Big Ben, like King Kong atop the Empire State Building.
But Balotelli mental muscles as strong as his body. He repeatedly insulted, too many times that he got up. For him, nothing can hinder his love of football. He also decided to become a professional footballer. With the club began his career in Italy, Lumezzane. Then went to Internazionale Milan. And now he is the mainstay of Manchester City.
Cesare Prandelli smitten then called him to join the Italian squad that will compete at the 2012 European Cup. Prandelli balo no matter how often to do off the field trouble, trouble with discipline, and often clashed with fellow players. In short, Prandelli believe, behind the haughty air of balo, there will be goals that are ready to print.
And Prandelli true. Balo went on to become the first Italian player as well as the first black player to successfully scored three goals at Euro 2012. Wonder where fascist-fascist who likes to insult him when I discovered this fact.
After the match against Germany in the semifinals, where balo successfully scored two goals to make Die Mannschaft to lift a suitcase, he said:
"This was my best night so far in life."
When many players rejoice central Italy has been towards the 2012 European Cup final, balo actually go into the stands, to the two adoptive parents who watch it since the beginning of the game. Balo and hugged them, cried together. The screams are probably the most beautiful cry for him.
At the moment it's sentimental, balo adoptive father said he would bring her chocolate during the final match against Spain. Give balo chocolate has become the custom, and he hopes chocolate can make the performance better balo.
But not every prayer is a reality. Spain 0-4 Italy denied. Balo not scoring. There was no celebration. Yet he was rarely make after make a goal celebration. First he once said, no need to celebrate so-necessary because "nobody mailman celebrate after deliver the letter."
But after Italy defeated Spain sesengukan he cried. After this balo may understand, that the postman can also cry. However, if balo is the postman, the adoptive parents are a pair of pigeons who will accompany balo seek to address elsewhere.
And early Monday morning balo get anything more than a trophy: two adoptive parents who loved him with all.