Evidence of Real Madrid has a special relationship with Palestine is not nonsense. In addition to the assistance provided to the citizens of Cristiano Ronaldo and his visit to the Gaza Strip Palestinians, Madrid is also open to the Palestinian government.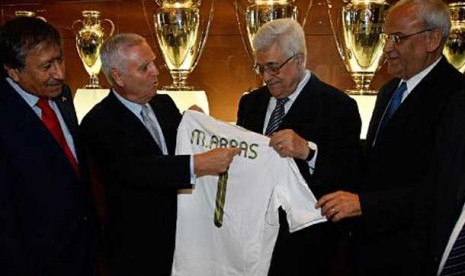 In honor of the Palestinian struggle against the Zionist occupation, they had invited Palestinian President Mahmoud Abbas came to the Santiago Bernabeu in July last year. He came to the Bernabeu was accompanied by the President of the Palestinian Football Federation Jebril Rajoub.
In a video uploaded to Youtube titled "Palestinian President Mahmoud Abbas visits the Bernabeu" looks official Madrid looked proudly explains in detail the various things about the club. Abbas specially invited to visit and tour the stadium that became the headquarters of Madrid.
Abbas invited to tour the hall and dressing store where the staff club trophy in the stadium complex. Indicated he did not miss the club to see a list of legendary players that can contribute a lot of trophies.
As against the provision jersey Barcelona to Israeli President Simon Peres, Madrid also do the same to Abbas. Madrid gave a special uniform back number one bearing the name of the number one in Palestine.
Honor given Los Blancos other is to give Abbas a chance to kick the ball in the middle of the field Bernabeu.
"It's a fantastic feeling and can not be trusted to be invited and around the stadium," said Abbas told Real Madrid TV.Tidak forget, Abbas pray Madrid could be the world's best club. That's because the most successful club in Spain is much to support the Palestinian cause. "I expect the club to be successful accomplishment," he said.