Chris Kirkland may have never thought he would be attacked and beaten by the fans in the middle of the field. He immediately thought of his son since the incident was broadcast live on television.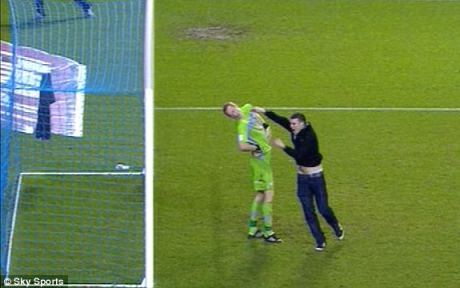 In the Championship game on Friday (10/19/2012) and then, between Leeds United versus Sheffield Wednesday, Kirkland as "fell and hit the stairs". Shortly after conceding a goal in the 77th minute, which makes Leeds equalizer, he also physically assaulted.
A man suddenly entered into the field, ran up to him and pushed his hands tightly to the face of Kirkland. Goalkeeper 31 years old, who had five seasons to defend Liverpool, directly 'KO'. He had received treatment from the medical team, but could continue the game.
Wednesday manager Dave Jones has asked that fans are known Leeds fans were sentenced to life than watching a football game at the stadium. He was also criticized for Leeds supporters often booed him and his team with the "rough" throughout the game.
Leeds manager Neil Warnock little "cheer" the players Wednesday 'by instructing his players to applaud the team of his guest. To the coward that he hoped fans man named Aaron Cawley was imprisoned for his actions.
In penuturannya, Kirkland had bowed his head because he felt disappointed conceded. When he raised his head, a movement caught the corner of one's eye towards him.
"At first I thought he was going to berate. But suddenly he attacked me with both hands, and I fell. I felt the full force, and was in shock because you would never know what was in his hand," said the 31-year goalie was quoted Dailymail.
"At that time, I immediately thought of my family, in case they're watching something like that. Thought my daughter watched me attack like that, it's not fun," he continued.
The incident did make a scene UK. Parties FA has decided to conduct an investigation into attacks carried out by 21-year-old man. A number of other players also denounced through his twitter account.
Rio Ferdinand (@ rioferdy5): Wow, watching the Leeds v Sheff Weds game .... that fan is a disgrace. Shocking. Been a good game too.
Gary O'Neil (@ Gazoneil): Wow what have I just seen on my tv! Absolute disgrace. # Leedsfan
Kyle Walker (@ kyle28walker): The fan could have had anything on him ruined great goal but a silly man. These Things should happen anymore
Phil Neville (@ fizzer18): Can not believe what I've just seen in the Sheffield wed vs Leeds game!