Referee who led the match Liverpool versus Manchester United, Mark Halsey, under attack on microblogging site Twitter. He also reported the incident to the authorities.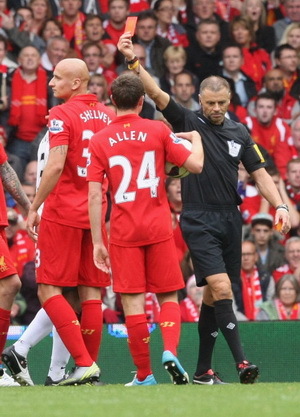 Halsey, who returned to duty in March 2010 after recovering from throat cancer, made a number of controversial decisions while leading the match at Anfield on Sunday (23/09/2012). Two of the most highlighted his decision was a red card for Jonjo Shelvey in the first half and a penalty to Manchester United in the second round.
Decisions Halsey made a number of parties are not happy. Liverpool manager, Brendan Rodgers, a red card after the game questioned Shelvey and a penalty for Manchester United.
In the virtual world, Halsey was also attacked. Noted there are two tweet mocks disease he had suffered 51 years.
"I hope Mark Halsey to get cancer again and died," chirping account @ johnwareing1, while @ lfcjohn259 twitter account: "Mark Halsey should have died because of cancer"
Tweet from @ lfcjohn259 finally removed, while the account @ johnwareing1 even have disappeared completely.
However, Halsey still report the matter to the police Manchester. He asked the police to investigate.
"I can confirm that my family has filed a complaint with police. I'll talk to the police on Wednesday after I get back from the game (League Cup) Southampton vs Sheffield Wednesday," said Halsey is quoted by the Telegraph.
Attacks on Halsey was criticized by match officials organizations (Professional Game Match Officials Limited). They expressed support for Halsey.
"PGMO hate any abuse match officials, whether it is inside or outside the stadium," said their statement.
"Our main concern focused on Mark and his family, and like all the match officials, there is a team that will help them. Mark had the support of all his colleagues, and they will continue to support him this week."