Manchester United marked the beginning of the season 2012/2013 with a negative result. Everton come to the headquarters, the Red Devils have lost with a thin score 0-1.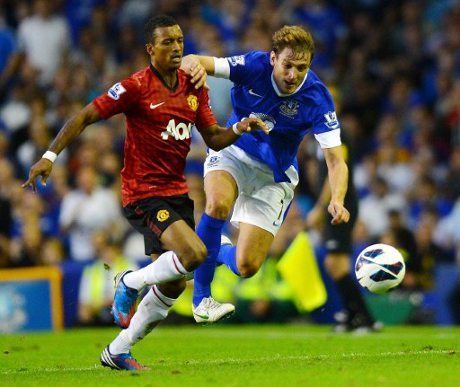 At Goodison Park, Tuesday (08/21/2012) pm dawn, United immediately put his new players, Shinji Kagawa, as a starter. Players from Japan was featured as an attacking midfielder behind Wayne Rooney.
MU is more dominate the game. Statistics Soccernet recorded their superior ball possession to 69 percent.
However, Everton attack proved more effective. Evidently they could unleash 18 shots with seven of them on target. While MU just 14 shots and four that led to the goal.
The only goal of the game was created in the second round. Marouane Fellaini The Toffees hero with goals only child.
These results are put in the position of the MU-15 Premier League standings with zero points. Everton in sixth with three points.
The game
MU get the first chance through Paul Scholes in the ninth minute. However, Scholes shot from outside the box is too slow and easily secured by goalkeeper Tim Howard.
Fellaini could endanger Chelsea's goal five minutes later. After penetration of the left side, he released flick from close range, but only hit the post.
Nani tried his luck in the 23rd minute with a shot from outside the box. Not produce a goal as the ball was off the mark.
David de Gea made another brilliant moments later. He dismissed directed header from Steven Pienaar.
Howard also show ability at the next opportunity. As he flopped, it dispels the former Manchester United goalkeeper Wayne Rooney free kick.
Pienaar was again spread the threat for the visitors. Shot from the front of the box saved by De Gea with difficulty.
Danny Welbeck almost made a goal in the 38th minute. Utilizing breakthrough bait Shinji Kagawa, he besieged defenders can still be fired, but the direction is still widening.
Entering the 41st minute, De Gea back teeth. He showed excellent reflexes to block Leon Osman volley.
Four minutes later, the same thing happened again. This time, De Gea flew to ward off Leighton Baines free-kick that led to the top corner.
The first half ended. Scores were still level at 0-0.
Three minutes after the restart, Osman nearly MU goalkeeper thwarted when his shot is not the rule.
The home side finally broke the deadlock in the 57th minute. Fellaini's header greeted Gibson corner corner lodged in MU.
Tom Cleverley had a chance to bring MU equalized ten minutes later. However, it can be driven close range shot Phil Jagielka standing on the goal line.
In the remaining time, Manchester United dominated the game kept pounding home defense. Robin van Persie was included in order to attack more bite. But, they are still not able to score the equalizing goal.
The composition of players
Everton: Howard; Hibbert, Baines, Distin, Jagielka; Neville, Osman (Coleman 81 '), Fellaini (Heitinga 90 +2'), Pienaar, Gibson; Jelavic (Naismith 90')
Manchester United: De Gea; Valencia, Carrick, Vidic, Evra; Cleverley (Anderson 85 '), Kagawa, Scholes; Nani (Young 78'), Welbeck (van Persie 68 '), Rooney