From the top scorer while the top five European Cup in 2012, has the largest chance of Italian striker, Mario Balotelli. Just one goal from Mario Balotelli has been made as Euro 2012 top scorer. Condition, not a single Spanish player who exceeds the number of goals Balotelli.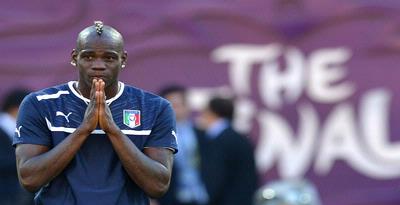 Balotelli is to be the strongest candidate. Because the other four players who scored three goals namely Alan Dzagoev (Russia), Mario Mandzukic (Croatia), Mario Gomez (Germany), and Cristiano Ronaldo (Portugal), it will not add to Pund-pot had been knocked out goals for his country.
Balotelli rival now comes from three Spanish players, Fernando Torres, Cesc Fabregas, and Xabi Alonso, who had packed two goals. Torres and Fabregas definitely be a threat striker Balotelli to compete to be fertile in Ukraine and Poland. Both players are more likely to score than Alonso, who plays in midfield anchor.
However, if none of the players who scored in the final, then the title of top scorer will fall into the arms of Dzagoev. Dzagoev played fewer minutes than the four other rivals, including Balotelli.
If this happens, then for the first time since two decades ago, the European Cup's top scorer only recorded three goals. Last time, the quartet Henrik Larsen (Denmark), Karlheinz Riedle (Germany), Dennis Bergkamp (Holland), and Tomas Brolin (Sweden), became the top scorer along with the achievement of three goals at Euro 1992.
Here's a list of top scorer in European Cup:
European Cup 1960: Francois Heutte (France), Velentin Ivanov, Viktor Ponedelnik (Soviet Union), Milan Galic, Drazan Jerkovic (Yugoslavia) - 2 goals
European Cup 1964: Jesus Maria Pereda (Spain), Ferenc Bene, Dezso Novak (Hungary) - 2 goals
European Cup 1968: Drazan Dzajic (Yugoslavia) - 2 goals
European Cup 1972: Gerd Muller (West Germany) - 4 goals
European Cup 1976: Dieter Mueller (West Germany) - 4 goals
European Cup 1980: Klaus Allofs (West Germany) - 3 goals
European Cup 1984: Michel Platini (France) - 9 goals
1988 European Cup: Marco van Basten (Netherlands) - 5 goals
European Cup 1992: Henrik Larsen (Denmark), Karlheinz Riedle (Germany), Dennis Bergkamp (Holland), and Tomas Brolin (Sweden) - 3 goals
European Cup 1996: Alan Shearer (England) - 5 goals
Euro 2000: Patrick Kluivert (Holland), Savo Milosevic (Yugoslavia) - 5 goals
Euro 2004: Milan Baros (Czech Rep.) - 5 goals
Euro 2008: David Villa (Spain) - 4 goals