Real Betis defender ever to study in Liverpool, Miguel Roque, has died at the young age, 23 years, because of his cancer.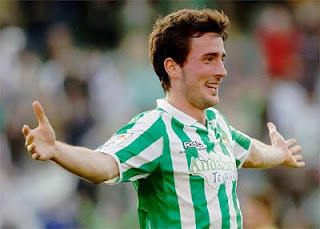 In a statement delivered through his official website Betis party, noted that Roque had been battling cancer pelvic (the part of the body at the pelvis) since March 2011.
Initially the deceased had attacked the tumor surgically removed in May, after Betis menugumpulkan special funds by selling bracelets bearing the name of him.
Since diagnosed with cancer, Roque who played for the Spanish U-19 national team that could no longer play. After being released by Liverpool, who signed him from 2005 to 2009, Roque had played 14 times with Betis in the season 2010/2011.
Although listed as a four-year player for the Reds, Roque played only once, namely in a Champions League match in December 2006, when Liverpool's 3-2 win over Galatasaray. He was also loaned out to Oldham, Xerez, and Cartagena.
After struggling for about a year, the deceased died on June 24, or two weeks before the birthday, the 24th, which falls on 8 July.
The news of his death was direaksi by many players, including some of the pillars of Matador who are following the European Championships in Poland-Ukraine.
"Hugs to the family of Miki Roque," wrote Gerard Pique through his twitter account. "I knew him when he played for Liverpool and I was at Manchester United. Rest in peace, friend."
"I've heard of the death of Miki Roque. I could not say a word. World football and those who love you, will never forget you," said Sergio Ramos.
"It's a sad news. A great fighter and has left us. I could not say a word ... Rest in peace, Miki Roque," said Cesc Fabregas.